Introduction to EL4DEV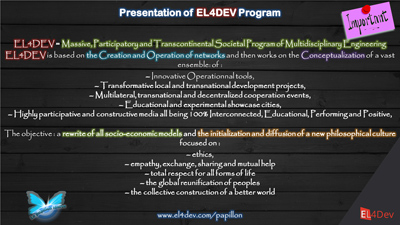 EL4DEV provides the concrete application solution to the real challenge of our humanity (how to switch from the many small local beneficial actions to a massive and ordered reorientation - especially as the real added value and the evolution of this reorientation must be measurable by the entire world population). The program has a purely positive character and is not protesting kind. EL4DEV is a powerful and very realistic systemic tool for a real project of society. It promotes a spirit of change and begins a reorganization of principles, institutions and mechanisms. This is to put all the world at work in the collective search for innovative solutions.
EL4DEV group is a consortium without legal identity. It forms an atypical startup that allows individuals of all ages to experiment with different moral values in order to create, expand or consolidate the collective in society. It is a learning framework that considerably increases awareness of the interdependence and the importance of "living together". Pedagogy simultaneously adopts various ingenious learning styles (atypical and transformative software, revolutionary and sustainable added value development projects, intelligent and stimulating entertainment and an outsized theme park.
This initiative of the not-for-profit company El4Dev LLC is a mix between science (specifically Humanities and Social Sciences), engineering and utopia (concept related to moral philosophy, humanism and ethics) in order to achieve an ambitious and lofty objective measurable by technology. Science is the foundation, the strength of the program. Utopia is its engine, its purpose, its main reason. Engineering is its logic, its process. Technology (especially digital humanities) is the way to measure the effectiveness and sustainability.
EL4DEV is defined as a new kind of international social enterprise doing large scale multidisciplinary engineering and cross functional management, then based on a broad and scalable business model to operate effectively.
EL4DEV conceptualizes efficient processes, unconventional solutions and useful synergies to both micro and macro levels, in any field needing a global consciousness progress (economic, financial, social, political, diplomatic and behavioural).
EL4DEV software will all be available online. Those are educational, scientific, simulation, management, evaluation, communication and entertainment tools. Just like the Strategic Deployment Tool, they are massively multi-user, collaborative and interconnected. They work together as a broad catalyst, a useful data modeling and predictive analytics ethical system, a "Big Smart Data" (useful massive data processing) from the collective experience.
EL4DEV program is private, transparent, non-politicized and independent. It is run by a combination of young British companies. This grouping is born to make the real difference and forms a new kind of hybrid technology and consulting legal entity (for profit to raise funds, but to the majority shareholder, the goal is 100% non-profit).